Georgia has the distinction of being the only state in the country with both of its U.S. Senate seats on the ballot this cycle. Longtime Republican Sen. Johnny Isakson chose to retire at the end of 2019 due to his ongoing battle with Parkinson's Disease. This retirement triggered a special election for the remainder of Isakson's term, which is set to expire in 2023. Gov. Brian Kemp was tasked with appointing an interim Senator, who would hold the seat until the election. Nearly two dozen candidates filed to run in this special election, which is an all-party jungle primary. All candidates will appear on the same ballot and unless someone gets more than 50% of the vote, a runoff election would be held between the top two candidates. Let's look at the three leading candidates in this special election.
KELLY LOEFFLER
On paper, Kelly Loeffler did not seem like your ideal pick for a U.S. Senate appointment. The 49-year-old multimillionaire businesswoman was the founder and CEO of a bitcoin company called Bakkt. She also co-owned Atlanta's WNBA team and has never run for elected office before. She is married to Jeffrey Sprecher, the president of the New York Stock Exchange. Gov. Brian Kemp selected her to succeed Sen. Isakson with the hope that she would appeal to suburban women, a group that the Republican Party has lost support from in recent elections. Loeffler introduced herself to Georgians by touting her upbringing on her family's farm in Illinois, saying that she waited tables through school and spent Sundays in church. She has also leaned heavily into her career as a businesswoman, saying that she has "lived the American dream." She said that she would compete in the special election for the remainder of Isakson's term, and promised to spend $20 million of her own money on her campaign. In the early weeks of the coronavirus pandemic, she came under fire for some stock transactions that she and her husband made after she attended a briefing on the threat of the virus. Documents revealed that she and her husband sold stock in companies that were likely going to be hit the hardest by the pandemic. She denied any wrongdoing and her transactions were reviewed by the Justice Department. No one was charged with a crime and the investigation was closed. Since then, Loeffler has tried to campaign to the right. She recently touted an endorsement from controversial congressional candidate Marjorie Taylor Greene, who has expressed support for the QAnon conspiracy theory. She has touted her "100% voting record" with President Trump and has criticized the Black Lives Matter movement.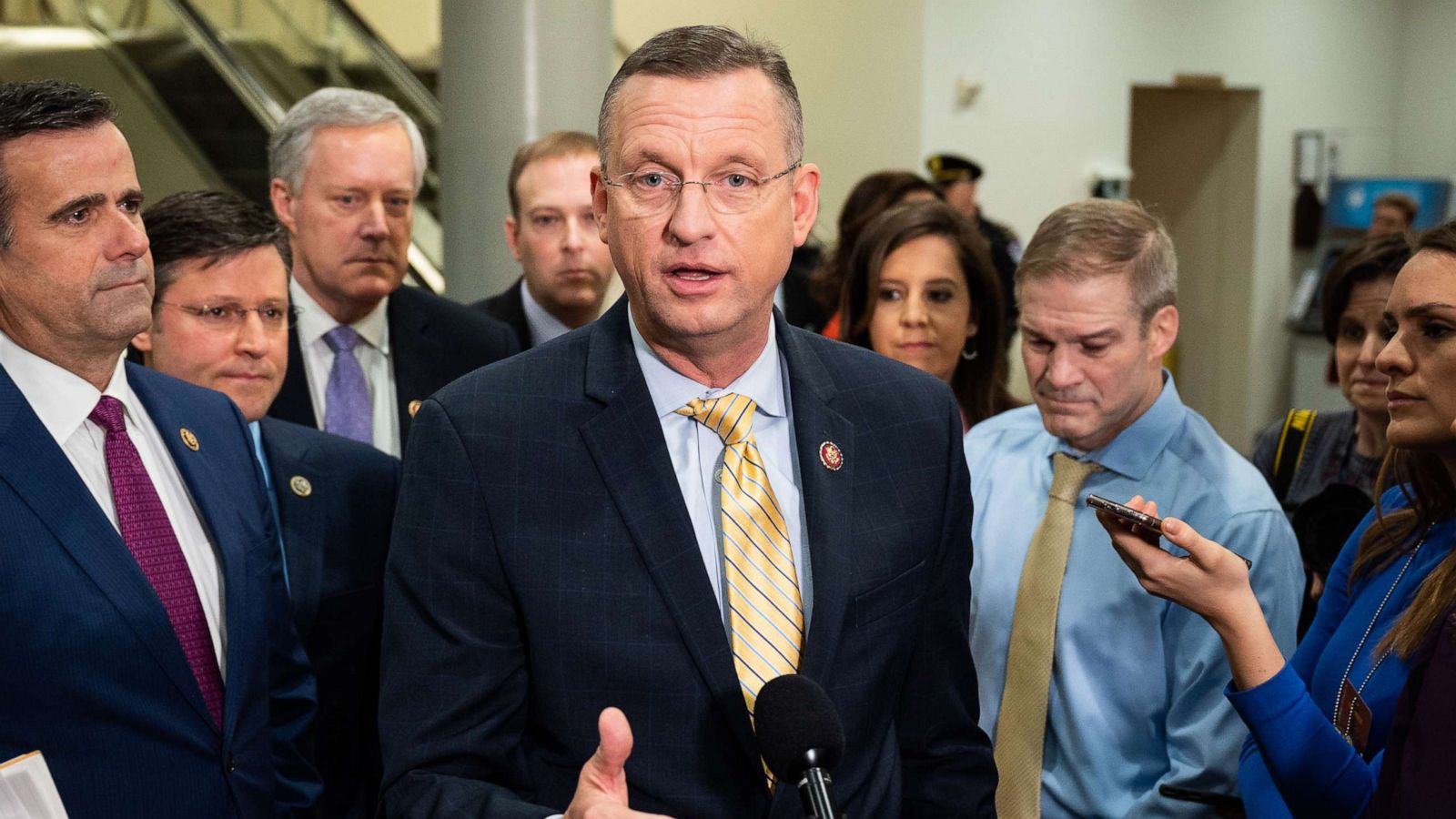 DOUG COLLINS
Loeffler's top Republican rival in the jungle primary is Congressman Doug Collins. A former Naval chaplain, the once-lowkey Republican Congressman from northeast Georgia vaulted into the national spotlight during the impeachment proceedings for his staunch defense of President Trump. He was seen as the frontrunner for the Senate appointment. President Trump himself personally lobbied Gov. Kemp to appoint Collins, but he chose to appoint Loeffler instead. Collins then suggested that he would run for the seat if he were not appointed, and formally launched his campaign in January 2020. He tried to campaign to Loeffler's right, as most Tea Party groups were not sold on her because of the WNBA's support of Planned Parenthood, as well as her donations to some Democratic candidates in the past. Collins has also attacked Loeffler for her donations to 2012 Republican presidential nominee Mitt Romney. Republican outside groups have hammered Collins for being "friends with Stacey Abrams." At a debate, Loeffler attacked Collins for being "one of the most liberal Republicans" in Congress. He has earned endorsements from several prominent Georgia Republicans, including Georgia House Speaker David Ralston and former Gov. Nathan Deal. Polling between Collins and Loeffler has been increasingly competitive, as both are fighting for second place in the jungle primary. President Trump has declined to endorse either candidate, but spoke highly of both of them at a recent rally in Macon.
RAPHAEL WARNOCK
National and state Democrats are rallying around Rev. Raphael Warnock, the pastor of Atlanta's historic Ebenezer Baptist Church, which is where Martin Luther King, Jr. first started preaching when he was a young adult. Warnock is a unique candidate, as Democrats don't usually recruit pastors for statewide races. The 11th of 12 children, he grew up in public housing in Savannah, Georgia and was the first in his family to graduate from college. He took over the pulpit at Ebenezer in 2005. His Senate campaign is not his first brush with politics. In 2014, he was one of over 40 protesters who were arrested at the Georgia State Capitol during a sit-in to demand the expansion of Medicaid under the Affordable Care Act. He has also chaired the New Georgia Project, a group that fights to register new voters in Georgia. In 2016, he considered running against Republican Sen. Johnny Isakson, but he declined to do so. After Isakson's resignation, he entered the special election to serve the remainder of his term. His campaign was slow to take off: he and his wife were involved in a dispute earlier this year, he regularly polled in third place for most of the year, and he didn't start airing TV ads until after the Labor Day holiday. But he has dramatically turned things around. He was endorsed by former President Barack Obama, he raised nearly $13 million in the third quarter and polling has him finishing in first place. He's almost certain to make the runoff, though his team is expressing confidence that he can win the election outright with more than 50% in November. But with other Democrats on the ballot, this doesn't seem likely.
OTHER CANDIDATES
Why is this race all but certain to go to a runoff? Because there are dozens of other candidates on the ballot as well. Democrats have pressured other candidates to drop out, but to no avail. One of those candidates, Matt Lieberman, is the son of former Senator and 2000 vice presidential nominee Joe Lieberman. He has tried to cast himself as an independent voice and has said that the top three candidates are beholden to their party leaders in Washington. "Don't vote for one of these three stooges," he said at a recent debate. Another Democratic candidate, former U.S. Attorney Ed Tarver, has failed to pick up steam. He called on national Democrats to pull their endorsement of Warnock after his marital dispute was revealed. But his fundraising has not been great and he is not registering well in public polling.
THE RUNOFF
If no one gets more than 50% of the vote in next month's jungle primary, the top two finishers will advance to a runoff, which would be held on January 5, 2021. With nearly two dozen candidates running, a runoff seems inevitable. Democrats usually dread Georgia's runoff system, because turnout always decreases. In 2018, Georgia's race for Secretary of State went to a runoff because no candidate won with a majority of the vote in the November election. Turnout decreased and Republicans held onto the office. You have to go back to 2008 to find the last time a Senate race in Georgia went to a runoff. That year, Republican Sen. Saxby Chambliss faced a close race from Democratic State Rep. Jim Martin. Neither candidate received a majority of the vote, triggering a runoff election. The runoff, which was held in December, saw 1.7 million fewer votes cast statewide than the general election. Chambliss easily held onto the seat by a double-digit margin. Runoff elections are difficult to handicap, because it's hard to tell what the electorate will look like. Turnout always decreases and the environment may be different. In recent years, Georgia's runoff system has benefited Republicans. But 2020 is perhaps the most uncertain year of our lifetimes, so anything could happen between now and early January.