Sen. Joe Manchin (D-WV) has been a hot topic of discussion since the 2016 election, where Donald Trump carried West Virginia by a historic 68%-26% margin. Despite standing with Democrats on health care bills (and opposing select Trump cabinet appointees), many on the left have been infuriated by Manchin's votes and comments suggesting some level of support for Trump. Some (who are likely unfamiliar with the typical West Virginia Democratic primary voter) have even encouraged recruiting a primary challenger. But Manchin's real threat is from Republican Party, who, emboldened by Trump's massive 2016 win, appear to have a top-tier recruit in Rep. Evan Jenkins ready to jump in the race. Will Manchin be able to steer a course to re-election in a state where his party's nominee just captured a mere 26% of the vote?
Manchin has built an undeniably impressive career in West Virginia politics. Entering the state legislature at age 35 in 1982, Manchin fell short in his first primary for Governor in 1996, but successfully went statewide by winning the 2000 Secretary of State election. In 2004 he won the first of two terms as Governor (winning by 64/34 in 2004 and 70/26 in 2008) and after the death of longtime Senator Robert Byrd, ran in the 2010 special election to fill his seat. While his first Senate election was a mere 10% victory (in a GOP wave year), he blew out the same opponent in his 2012 re-election campaign by a 24% margin (even as Mitt Romney won the state by 27%).
The Pivotal 3rd District
Manchin's big victories came from all across the state, but he has fared best in the state's historically Democratic 3rd congressional district — the epicenter of the nation's opioid crisis. The district is one of the poorest and least educated in the country — it has a median household income of just $36,902 (416th out of 435 districts and far behind West Virginia's 1st — $42,057 — and 2nd — $46,254 — districts) and only 15.4% of adults over 25 have a college degree (418th out of 435 districts). It also trails just 2 districts (Kentucky's 5th and Ohio's 6th) in largest share of whites without a college degree at 79%. Democrats continue to do best in the 3rd district in statewide elections, despite losing their edge in Presidential elections starting with Mitt Romney's dominant victory here in 2012.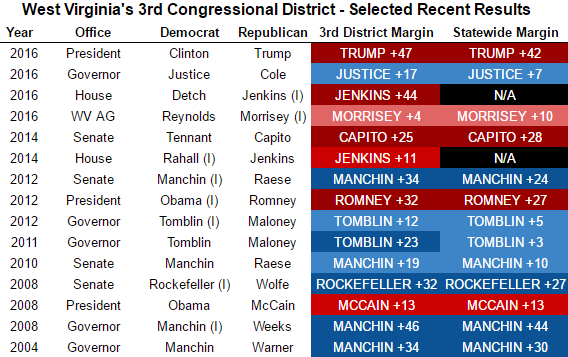 The district also happens to be represented in Congress by Manchin's likely GOP opponent — Evan Jenkins. After switching parties to become a Republican and knocking off longtime Democratic incumbent Nick Rahall in 2014 by a 55/45 margin, Jenkins cruised to re-election in 2016 with 67% of the vote. The only poll pitting the two against each other in the Senate election has Manchin ahead 51–39, but confirms that Jenkins narrowly leads Manchin in the 3rd (other potential challengers trail Manchin by large margins both overall and in the 3rd). If Jenkins can get solid turnout in the rest of the state — not a bad bet considering his conservative voting record — then he will be very competitive.

The Midterm Electorate
Midterm electorates tend to skew older (and whiter, but that's not much of an issue in WV where over 90% of people are white) than Presidential contests — a trend that typically benefits Republicans. But West Virginia is one of few states where an older electorate will likely aid Democrats, who still see a large (albeit quickly shrinking) party registration advantage in the state. Harper's poll of the race has Manchin with a huge lead among voters over 55, while Jenkins holds a comfortable edge among those younger than 55.
It's entirely possible that Manchin's edge with older voters is eroded as a partisan campaign takes shape. But Manchin has cultivated a strong local brand and has bent over backwards to distance himself from the national party. It also can't hurt him that a locally despised Democratic presidential candidate won't appear at the top of each voter's ballot. Throw in an unpopular President Trump and Manchin looks poised to benefit from the 2018 electorate.
Mylan Pharmaceuticals: The Elephant in the Room
Any preview of the 2018 West Virginia Senate race would be incomplete without a mention of what is perhaps Senator Manchin's biggest vulnerability — his extensive ties to the pharmaceutical industry (Mylan Pharmaceuticals in particular). Manchin's daughter Heather Bresch has worked for Mylan since 1992. She worked her way up from a low-level position (a job she obtained after her father mentioned her job search to their then-CEO) to Director of Government Relations (where she helped craft Medicare Part D legislation) all the way to CEO today.
The Street took a thorough look at the Manchin family's extensive ties to the company (and the Senator's unwavering public support of the firm). Mylan has taken substantial heat for its aggressive actions to prop up the price of their flagship product EpiPen (most recently it was reported that the firm sued the state of WV to attempt to prevent it from removing EpiPen from the state's list of preferred drugs — a move that would have saved taxpayers $1 million).
While Mylan's promotion of the EpiPen certainly can't help Senator Manchin, he may have additional problems. This, from The Street piece really jumps out:
On Jan. 16, Gayle [Manchin] was appointed by West Virginia Gov. Jim Justice to become Secretary of the Department of Education and the Arts. In this role, she has become the head of the Division of Rehabilitation Services, which oversees the state's programs for drug abuse, including allocations for naloxone and narcan.
West Virginia saw the highest number of overdose deaths in 2015.
As it happens, Mylan launched an injectable version of naloxone, which is used to stop a drug overdose, in 2014.
While Manchin has some things to look forward to in 2018, one can't imagine he's resting easy.